Digital Marketing has become the most preferred way of marketing products and services. It is a vast domain and consists of multiple sub-domains. Hence it becomes very necessary to start with fundamentals to understand this field. This blog presents all the necessary fundamentals of Digital Marketing.
Digital marketing is marketing your product, whether a good or service, through digital means. It involves marketing through online mediums and can be understood as the opposite of traditional marketing.
It has become very important to get the basics right so as to utilize Digital marketing to its fullest. Whether you are a Sole proprietor or a Restaurant owner, a freelancer, or the leader of a large organization, having a fundamental level of knowledge of Digital Marketing is very crucial.
Digital marketing constitutes all the modern marketing techniques and is a growing marketing trend, which is why it is important to learn about the fundamentals of digital marketing.
Why is digital marketing important?
Here are few reasons why digital marketing is important for your business:
Digital marketing efforts require barely any initial investment. This is great for small businesses. Most digital marketing tools offer basic features free of cost. It is up to the businesses to make the best use of them.
With traditional methods of marketing, your efforts get limited to a particular demographic but with digital marketing, your presence can be felt globally, hence reaching a wider audience.
Reach to potential customers
Earlier it was difficult to reach out to potential customers, but with the efforts of digital marketing it has become easy to identify and reach the target audience. Targeting the potential audience will yield better results.
If a customer has no awareness of your brand, then he cannot make a conversion. To tackle this, brand visibility is extremely important. With pay-per-click and other kinds of paid promotions, you can really attract customers to your small business.
Based on the Litmus report, email marketing ROI stands at 4,200% or 42x. For all dollar brands invest in email marketing, they receive $42 in return. This is the kind of return we are talking about. It is huge and hence it would be a great decision to invest in digital marketing opportunities and see your business grow.   
Fundamentals of Digital Marketing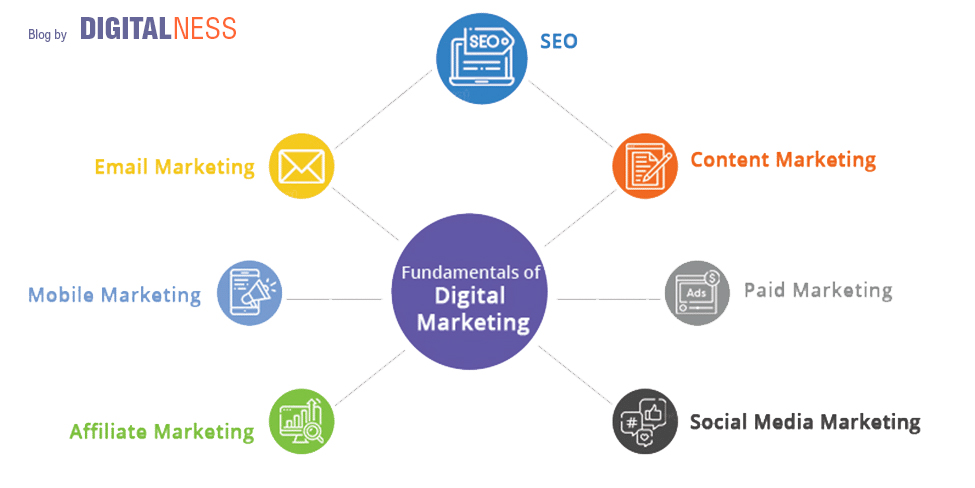 Unlike the traditional marketing approach, modern marketing and Digital Marketing have many basic level components which are absolutely essential for running and implementing marketing best practices in today's world.
The first and the most inexpensive part of the fundamentals of digital marketing is SEO which stands for Search Engine Optimization. It is one of the best and simplest ways to increase a brand's visibility.
SEO can be explained as the process of optimizing the content through the strategic use of keywords and complying with the algorithm of search engines so that during a search on Google, Bing, Yahoo, or any other search engine, they index the content and show it to the right people.
When a user enters a word on the search tab, the search engines use crawlers or bots that crawl each page, visiting site to site on the web to produce results on the SERP (Search Engine Result Page). All the pages are displayed as per ranks on various SERPs. The website links that are displayed on the first SERP are the ones with the right Search Engine Optimization.
There are 3 types of SEO:
On-page SEO: The type of SEO that works on the content existing "on a web page" is termed On-page SEO. In this type of SEO, the SEO marketer focuses on researching keywords to increase the traffic to the page. Some of the common On-page SEO tactics include answering user queries to rank high on the SERP.
Off-page SEO: The second type of SEO is "Off-page SEO", where the SEO marketer focuses on all the actions that can take place "off the web page" to increase the traffic to the current web page. Now you must be wondering how is it possible to work on other things to increase the optimization of another web page. Well, it is possible by using off-page SEO tactics such as adding backlinks to already existing web pages on your current web page. These backlinks are also known as inbound links.
Technical SEO: Technical SEO refers to the optimizations of websites and servers to assist search engine crawlers in effectively indexing your website to promote an increase in organic rankings. For example, if you are building an XML sitemap for your website, the technical SEO strategy should focus on the proper functioning of all the pages.
Content marketing is also an organic way of increasing traffic by developing SEO- friendly content and helping in increasing brand awareness. When done strategically, leads to great results, which can be analyzed through the fact that businesses with blogs get 67% more leads than other companies. It helps in earning leads and helps brands to convey the product ideas and vision
Not everything comes free. Even though Digital Marketing is considered cheaper, it is never free. Paid Marketing is nothing but paid to advertise. Here, the marketer purchases advertising quota from online platforms such as Facebook, Google, etc. to market the products and services to a specific set of audiences (typically, the target audience). For example, Facebook Ads and Google Ads, etc. allow marketers to advertise on their channels in exchange for a very nominal charge.
Social media marketing is a powerful way for businesses of all sizes to reach prospects and customers. Your customers are already interacting with brands through social media, and if you're not speaking directly to your audience through social platforms like Facebook, Twitter, Instagram, and Pinterest, you're missing out! Great marketing on social media can bring remarkable success to your business, creating devoted brand advocates and even driving leads and sales.
Social media marketing is the easiest and most effective way to connect with the target audience. We all have witnessed the power that social media holds. The impact of social media on our opinions is immense. There are millions of people on social media swaying others with their opinions, and if brands use this fact for their benefit, then that becomes social media marketing.
How does Social Media Marketing work?
Social Media Marketing is a vital part of any Digital Marketing strategy. Hence it requires a planned process to give the best results. The following are the major focus areas in Social Media Marketing:
Execution Strategy – You must first design a strategy that includes what are your goals, what tools will be used, who is the target audience etc.
Planning – Next you need to plan what kind of content, posts, campaigns, etc. will you post to engage the customer.
Marketing Analytics & Research – Once you are done with the planning, you must conduct market research and identify the customer behavior, trends, patterns, etc. so that you can spend the resources on the right thing.
Final Advertising – After all the preparatory steps, finally start publishing content, advertising products, services, etc., launch ad campaigns, and more.
Monitor – After advertising, regularly monitor the performance of the posts, ads, etc. so that you can rectify if there are any mistakes.
Email marketing is an easy and effective way to stay connected with existing and potential customers. It is nothing but generic mail that is used to target the audience. It can be understood as an advertisement that is aimed at garnering traffic on the website and has the highest conversion rates. Most of the email marketing constitutes emails that communicate new offers and coupons to spike the recipient's interest.
There are many tools like Mailchimp that have made the job of email marketing easy. They help in generating emails and sending them to the list of potential leads.
Here are a few steps that can help you plan:
Define your target audience
Establish your goals
Get people to sign up
Select a campaign type
Schedule the emails
Measure your results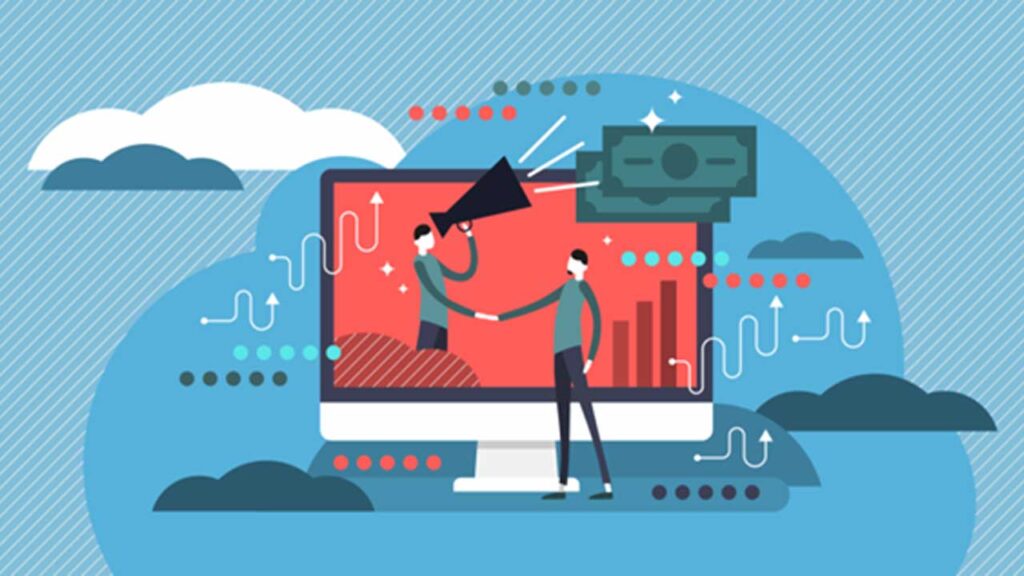 Affiliate marketing is the process by which an affiliate earns a commission for marketing another person's or company's products. The affiliate simply searches for a product they enjoy, then promotes that product, and earns a piece of the profit from each sale they make. The sales are tracked via affiliate links from one website to another.
Affiliate marketing works by spreading the responsibilities of product marketing and creation across parties; it manages to leverage the abilities of a variety of individuals for a more effective marketing strategy while providing contributors with a share of the profit.
Want to learn more about Digital Marketing?
Digital marketing is a growing vertical of marketing that holds immense scope. It has many aspects that one can explore. The career opportunities are vast and digital marketing is certainly the marketing of the future. If you want to dive deeper into it and build a career in it, you can check out the Fundamentals of Digital Marketing courses on Great Learning. The program will enable you to master all the digital marketing fundamentals and land your dream job.
Read More about Marketing Strategy